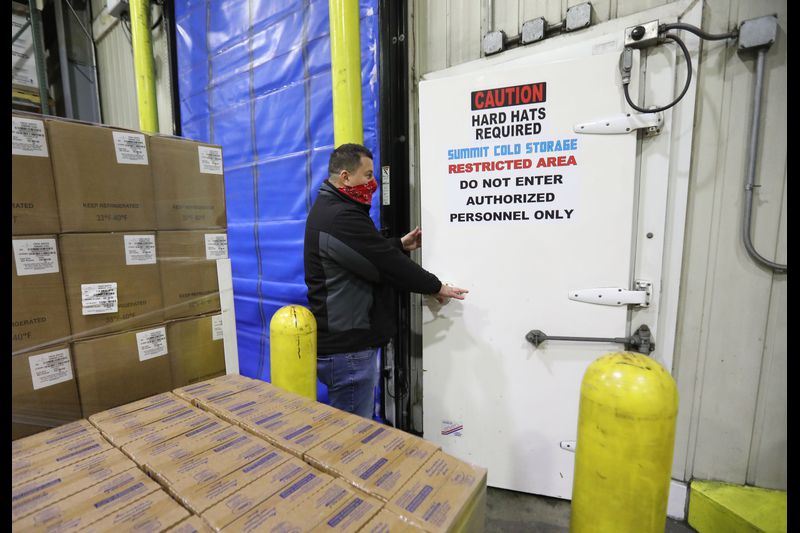 Chicago plays a key role in the nation's supply chain, which is gearing up for the logistics challenge of a lifetime: mass distribution of a COVID-19 vaccine.
Yet the complexity of the vaccine rollout and unique facilities requirements mean Chicago's sprawling network of warehouses — which includes more than 11 million square feet of freezer and cooler space — may not play a major role.
That's because there's a big difference between storing foods like hamburger patties, frozen peas and ice cream, and preserving a promising Pfizer vaccine that must stay below Arctic-winter temperatures.
"Nothing that we're building can even get that cold," said Tony Pricco, president of Chicago-based developer Bridge Development Partners, which builds and owns cold storage buildings and other warehouses throughout the country. "I don't think it's even feasible to keep a large space that cold. This is not a conventional freezer type of use."
No matter which vaccine emerges for mass distribution, the process of transporting and storing it could require a marshaling of public and private resources seen in only the rarest of instances, said logistics expert Tray Anderson of Chicago-based commercial real estate brokerage Cushman & Wakefield.
The nationwide effort is likely to include a range of government resources including military vehicles and planes, said Anderson, who leads the firm's industrial and logistics practice for the Americas.
"This will be one of those all-hands-on-deck efforts, similar to what happened in World War II," Anderson said.
Illinois could need facilities ranging from typical cooler and freezer space to ultracold spaces, depending on the vaccine. For Pfizer's vaccine, the state would need equipment capable of maintaining temperatures in the range of minus 60 to minus 80 degrees Celsius, according to the state's mass vaccination planning guide.
That's as low as minus 112 degrees Fahrenheit, or 144 degrees below the level at which water freezes. Such temperatures are virtually impossible to maintain in a typical large, open cold storage facility, and it would be unsafe for workers to walk around in such a space, industrial real estate experts said.
Instead, pharmaceutical companies and government agencies could seek space in traditional warehouses, where they could set up small, locker-like freezers capable of maintaining super-low temperatures. But that approach has its own challenges.
If Pfizer's vaccine is the one that moves forward for mass distribution, the pharmaceutical giant says it will largely control the distribution process, working in partnership with federal and state governments.
The vaccine mostly will be shipped from a sprawling facility in Kalamazoo, Michigan. Pfizer also will use its distribution center not far from the Illinois border in Pleasant Prairie, Wisconsin, Pfizer spokeswoman Francesca Marzullo said in an email.
The large Wisconsin facility will include an area for storing vaccines not immediately sent to distribution sites such as hospitals, Marzullo said.
Pfizer will use thermal shipping containers that can hold up to 4,875 doses. The specially designed containers can maintain a recommenced temperature of about minus 70 Celsius, or minus 92 Fahrenheit, for up to 10 days if they're unopened, she said.
Dry ice can be added to the containers once they reach distribution sites, Marzullo said.
Pfizer's preference to control as much of the shipping and storage process itself stands out, said Awi Federgruen, a professor of management at Columbia Business School.
"Normally speaking, it would be much more efficient to work with large distributors … but the understanding that lead times have to be reduced, and the number of handoffs have to be reduced to an absolute, bare minimum, has led to this very novel and ambitious distribution plan," Federgruen said.
How quickly distribution can be ramped up, and whether it will run into problems, remains to be seen, he said.
The challenge for hospitals, doctors' offices and pharmacies will be keeping those vaccines cold enough for a long enough time to use them all, experts say.
Most hospitals don't have ultracold freezers, and those that do typically use them for research, said Tinglong Dai, an associate professor of operations management and business analytics at Johns Hopkins University Carey Business School.
An ultracold freezer can cost as much as $20,000, he said. It may make sense for large hospitals in urban areas to make that investment, but less so for smaller, rural hospitals, Dai said.
The U.S. Centers for Disease Control and Prevention recommends against state and local government agencies buying ultracold storage equipment, and Pritzker has pointed to the risk of committing too soon to any particular vaccine or distribution plan.
"Well, there's only been a preliminary study that's come out about that Pfizer vaccine," Pritzker said in a COVID-19 briefing Thursday. "I'm very optimistic about it. Lots of other doctors, Dr. (Anthony) Fauci, talked about the optimism around it, but there's — investing in a hundred-degree-below-zero freezer equipment for the entire state before you even know if that's a vaccine that you will use probably doesn't make any sense."
An alternative to high-cost freezers is for hospitals and pharmacies to keep the vaccine in shipping containers until they're ready for use, as Pfizer proposes. That would require hospitals and pharmacies to closely coordinate supply and demand so they don't wind up with extra vaccines that go bad, Dai said. It will be possible to add dry ice to the containers, but each time ice is added, it creates opportunities for errors, he said.
A third option for storing the vaccines, especially in cities, would be to set up large, centralized freezing facilities with hundreds of freezers that could hold the vaccines for hospitals, pharmacies and doctors, Dai said.
A cluster of ultracold containers in one building would require a massive amount of electricity, plus backup power sources in case of an outage, real estate experts say.
"It's almost like a data center, where you have a tremendous amount of equipment and power," Pricco said.
Updated versions of Pfizer's vaccine, or a competing vaccine, could move traditional cold storage facilities into play, if they can be stored at warmer temperatures, experts said.
If that happens, drugmakers and government agencies could find relatively little available space.
There is 11.4 million square feet of cold storage space in the Chicago area, and just 3.7% was unused in the third quarter, according to real estate data provider CoStar Group.
It's a similar picture nationally, with overall vacancy around 3%, Cushman's Anderson said.
Vacancy traditionally stays low within the cold storage sector, because facilities are costly to construct and maintain, and they're often designed for specific tenants.
The pandemic is leading to a wave of new cold storage projects, as grocers are besieged by online orders delivered to homes, said Brian Niven, chief investment and development officer at Karis Cold Storage.
The Chicago firm owns a facility on Chicago's Southwest Side, and Karis recently formed a joint venture with Chicago-based BLG Capital Advisors and New York-based Winter Properties to expand nationally, including planned developments in Denver and Los Angeles.
Many grocers need more space to avoid shortages of items because of unusual circumstances brought on by the pandemic, such as meatpacking plants suffering widespread illnesses, Niven said.
"With the pandemic we've had, not only do you need the same amount of food you've been supplying to the population, but you need to be sure you have enough storage when plants go down for weeks at a time," he said. "What we're seeing now is the need for more storage for a longer period of time."
Still, many warehouse owners are willing to play a role in the vaccine rollout, if needed.
"If someone called upon us to help with the vaccine, we'd meet this challenge," said Michael Kucharski, vice president of south suburban Summit Cold Storage, which mostly stores food. "Everybody is going to have to pitch in to make this happen."
Tribune reporter Dan Petrella contributed.